WHO WE ARE
Our lab, counting to date almost 30 people is young and international, with members coming from Italy, Spain, India, Serbia, Albania, USA, Canada, Colombia and Chile. Each of us works on different projects according to skills, experience and especially interests.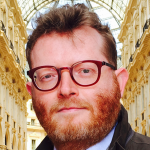 Giuseppe Testa
Principal Investigator

Adrianos Skaros
PhD Student

Alessandro Vitriolo
Postdoctoral Fellow

Carola Vetro
Master Student

Daniele Capocefalo
Postdoctoral fellow

Davide Castaldi
PhD Student

Emanuele Villa
Bioinformatician

Federico Pinna
Research Administrator

Giacomo D'Andrea
Master Student


Marco Tullio Rigoli
PhD Student

Marlene Cristina Faria Pereira
PhD Student

Martina Ciprietti
Master Student

Mathias Johansson
PhD Student

Nicolò Caporale
Postdoctoral Fellow

Pietro Lo Riso
Postdoctoral Fellow

Reinald Shyti
Postdoctoral Fellow

Sude Beskardes
Master Student

Aisling Coughlan
Postdoctoral Fellow

Alessandro Valente
Master Student

Bianca Barzaghi
PhD Student

Cristina Cheroni
Bioinformatician

Davide Aprile
Postdoctoral Fellow

Elena Signaroldi
Project Manager

Flavia Troglio
Postdoctoral Fellow

Hande Irem Hamurcu
Master Student

Ludovico Rizzuti
PhD Student

Marija Mihailovic
Postdoctoral Fellow

Marta Rosa Sallese
Master Student

Martina Pezzali
PhD Student

Matteo Bonfanti
Bioinformatics Technician

Pierluigi Manti
Postdoctoral Fellow

Raffaele Luongo
PhD Student

Sebastiano Trattaro
PhD Student

Erika Tenderini
Technician

Luca Marelli

Alex Cartalemi

Francesca Cavallo

Nadav Even Chorev

Danila Pallotta

Carolina Hoyo Becerra

Giuseppe D'Agostino
Duke-NUS Medical School, Singapore

Alejandro Lopez Tobon
Postdoctoral Fellow

Pierre-Luc Germain

Patricio Fuentes Bravo
Matteo Zanella

Giulia Barbagiovanni

Vivek Das
Novo Nordisk, Seattle, USA.

Italia Aiello

Andrea Perego

Ilaria Galasso

Michele Gabriele

Tania Velletri

James Hughes
Candiolo Cancer Institute, Torino, Italy

Maddalena Lazzarin

Pasquale Laise
Columbia University, New York City, USA.

Berta Marco De La Cruz
Thomas Burgold
Sina Atashpaz
Agnieszka Chronowska
Margaret Curnutte
Jacopo Sgualdino
Maria Damjanovicova
Arianna Brancaccio
Serena Buontempo
Silvia Cristofanon
Giulia Fragola
Elisabetta Incorvaia
Prem Tripathi
Agnese Franchini
Veronica Albertin
Roberta De Filippis
Celeste Franconi